Nanoparticle (hybrid) based polymer solar cells
Ansprechperson:

Förderung:

BAYER - NANOPOLYSOL
Project description
Rapidly increasing energy consumption as well as a decreasing fraction of energy generated from fossil fuels create a growing market for low cost photovoltaic technologies. The advantage of polymer based solar cells is their potential to be produced by solvent based deposition in a continuous roll to roll process. Efficiencies are steadily increasing and have reached 8.3 % on laboratory scale. Hybrid cells may further increase the efficiency due to high absorbance, high conductivity and tunable size and shape of semiconducting nanoparticles. A key challenge for this new technology is the successful scale-up from a laboratory to a technical process.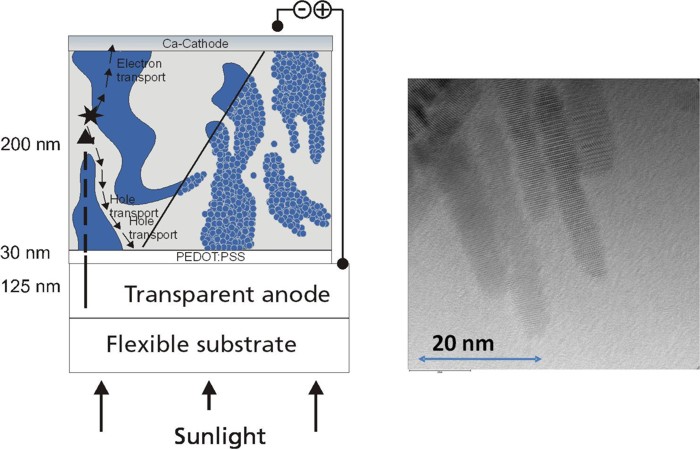 Figure 1: Sketch of the working principle of polymer based solar cells (left) and a TEM- picture of semiconducting rod shaped nanoparticles in a polymeric matrix (right).

This project aims to identify the influence of processing conditions on the properties of semiconducting films. Films produced by different coating methods (Slot Die-, Blade-, Spray-, Spinncoating) are characterized with respect to their homogeneity (defects, pinholes, thickness variation) as well as their optoelectric properties. Based on this specialized coating tools, and a procedure for scale-up and optimization of new materials are developed and demonstrated on a pilot scale coating line.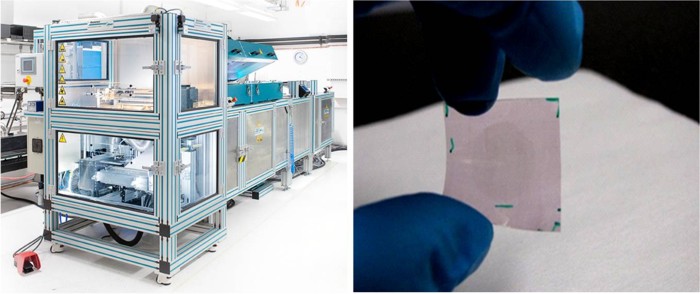 Figure 2: Pilot scale coating line (left) and a flexible hybrid solar cell produced by pilot scale slot die coating prior to cathode evaporation (right).

First hybrid solar cells prepared with a scalable coating technique (Blade coating) show similar efficiencies as spin coated reference samples.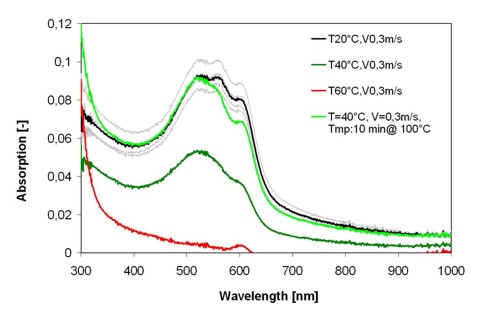 Figure 3: Absoprtion spectra of 30 nm knife coated bulk heterojunction nanoparticle polymer active layers processed under different drying (black, green, red) and annealing (bright green) conditions.
Critical for the efficiency of hybrid solar cells are drying and temper conditions which determine inter-particle contact and polymer crystallization. The stabilizing ligand layer inhibits electron transfer and hast to be removed either during drying or tempering of the films.
Collaboration:
Bayer Technology Services GmbH, Leverkusen
http://www.bayertechnology.com
Meerholz Group, Universität Köln
http://www.meerholz.uni-koeln.de
Lehrstuhl für Makromolekulare Chemie, Bergischen Universität Wuppertal.
http://www2.uni-wuppertal.de/FB9/poly
Frauenhofer Institut für Solare Energieforschung, Freiburg
http://www.ise.fraunhofer.de
Q-cells SE, Thalheim
http://www.q-cells.com
Soluxx
http://www.soluxx.eu
Acknowledgement:
This project is financially supported by the Bundesministerium für Bildung und Forschung and Bayer Technology Services GmbH.